Are you worried that your lawn looks unhealthy and you need a solution? Worry no more! You can easily revive your lawn using fertilizer, depending on the nutrient your lawn lacks. Specifically, the best liquid lawn fertilizer is the solution you are looking for to restore your lawn.
Accordingly, there are numerous available options in the market with the same claim of being the best. To make your work easier, we have compiled liquid lawn fertilizer reviews and a comprehensive buying guide that will enable you to make a wise purchase.
5 Best Liquid Lawn Fertilizers
1. Simple Lawn Solutions Lawn Food Quality Liquid Fertilizer (Natural liquid)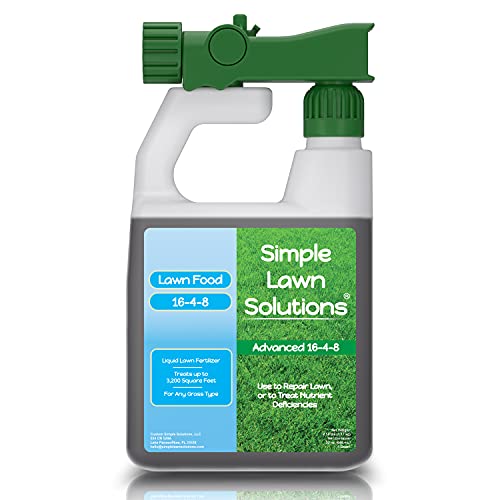 This Simple Lawn Solutions fertilizer has a nitrogen phosphate and potash blend of 16-4-8. Additionally, it contains seaweed extract to foster optimal growth. It is also a ready-to-use ultra-concentrated solution-based fertilizer ideal for spring and summer lawn needs.
Moreover, it is a natural liquid fertilizer that has both long and short-acting nitrogen. Due to the two acting forms of nitrogen, it promotes fast and green growth of your lawn throughout the year. Root growth is also improved while your lawn becomes more stress-tolerant.
This product is made in the USA, and it doesn't contain harsh chemicals. You can apply it on all types of grass, including Kentucky Bluegrass, Fescue, Bermuda, Ryegrass, St. Augustine, Buffalo, Zoysia, Florida Palmetto, Centipede, and Bahia. Its 32-ounce bottle is suitable to cover 3,200 square feet optimally. Simple Lawn Solutions also provide you with a ready-to-use sprayer that you can easily connect to a garden hose for fast and even spraying.
PROS
Non-toxic lawn food
Easy to use
Applicable to all grass types
High-quality lawn nutrients
CONS
2. Scotts Turf Builder Starter Lawn Food for New Grass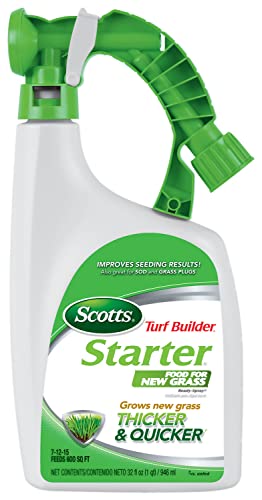 This fertilizer for lawns is an excellent choice for new grass with nutrient analysis of 24-25-4. It guarantees to give your lawn a lush and thick outlook. Besides its use in new grass, you can also reseed, patch bald sections, and place a sod.
Additionally, it is safe for application across all grass types with estimated rates of 35% faster and 70% thicker than untreated grass. Similar to the common trait of solution-based grass fertilizers, this Scotts turf builder is easy to use with the ability to connect to a hose. Resultantly, with this product, you will easily water and feed your lawn.
Its 32-ounce pack can optimally cover 1,800 sq ft (square feet) when it comes to coverage. For its application, use this Scotts turf builder as soon as you see the grass seeds sprout. After that, apply it a week later and the week after for the best growth results.
PROS
Easy to use
Harmless to all grass types
Simultaneous water and feed application
CONS
3. LawnStar Chelated Liquid Iron for Lawn, Flowers, Shrubs, Trees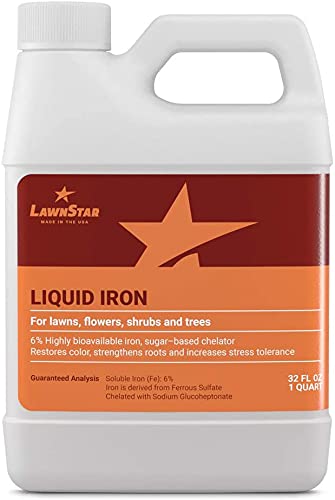 Unlike other liquid lawn fertilizers, this LawnStar Chelated Liquid Iron formula works by adding chelated liquid iron to the grass and soil. Primarily, it will help you solve the problem of iron deficiency. Apart from lawn use, it is suitable for versatile applications, including shrubs, trees, and flowers.
If you are wondering how to identify an iron-deficient lawn, it usually has the presentation of early dormancy, yellowing and overall failure to grow. Following the introduction of the Chelated solution iron to your lawn, your grass will thrive better due to increased chlorophyll production and subsequently increased metabolism. In addition to its benefits to grass, it fosters improved root development for long-term sustainability and builds tolerance to adverse temperature fluctuations.
You can also consider it to lack harsh chemicals because of its sugar-based chelated solution iron. In addition, when deciding how much of this product to give your lawn, the bottle has detailed instructions for its appropriate dilution. Finally, this product provides you with a money-back guarantee without questions if you are not happy with the product.
PROS
Safe for use
Treats iron deficiency
Versatile application to shrubs, trees, and flowers
Money-back guarantee
CONS
Lacks the NPK nutritional value
4. Simple Lawn Solutions Lawn Food Natural Liquid Fertilizer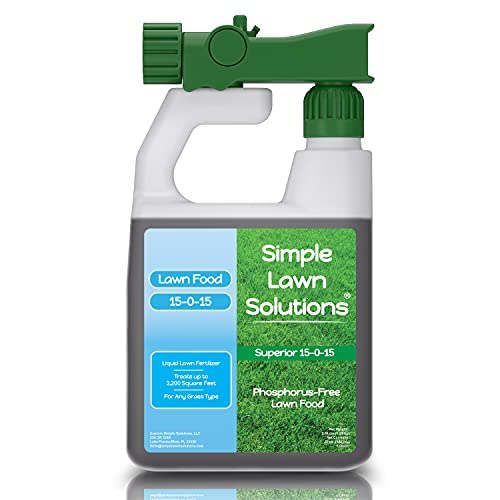 If your lawn shows signs of nitrogen or potassium deficiency, this is another quality liquid turf builder to restore beauty to your lawn with an NPK analysis of 15-0-15. You can tell your lawn lacks nitrogen or potassium when it appears to have brown or yellow patches. Despite this Simple Lawn Solutions fertilizer lacking phosphorous, it has the additional benefit of humic-fulvic acid.
The humic acid acts as an enabler for the fertilizer to move throughout your plants for improved outcomes. Additionally, it also enables a lawn to develop a tolerance for either cold or hot conditions. If you also have sandy soil in your backyard, you need not worry because this solution-based grass food is effective in such conditions.
Moreover, it has a broad application spectrum across all grass types. Its 32-ounce pack can comfortably cover 3,200 square feet. It is made of safe food-grade components that won't strain your lawn and are also safe for kids and pets. This natural liquid feed comes with a spray bottle that you can easily connect to a hose-end sprayer.
PROS
Easy to use
Great for sandy soils
Versatile to all types of grass
Contains humic acid for improved fertilizer absorption
CONS
5. Revive Ready-to-Spray Soil Builder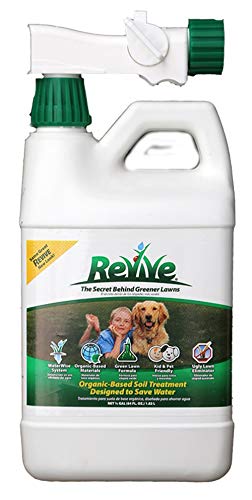 Revive presents another quality liquid grass feed. It is a non-toxic lawn care formula that is effective for greening your grass. Moreover, this solution-based grass fertilizer will help solve summer problems such as browning the lawn and increasing soil water penetration. In turn, this will help maximize water absorption without losing water through evaporation during the summer.
It comes with an easy-to-use spray bottle for optimal coverage of 4,000 square feet. It also has a slow release of carbon for improved cation-exchange capacity, which subsequently increases soil fertility. Ultimately, it helps improve the uptake of air, nutrients, and water by the roots.
PROS
Easy to use
Loosens hard soils
CONS
What Are The Advantages Of Using The Best Liquid Lawn Fertilizer?
1. Ease of Application
The majority of the best liquid lawn fertilizers can directly be connected to a garden hose for simplified application. Other types of solution-based fertilizer can be applied through an irrigation system and some through a pump sprayer. Whichever way it is applied, solution-based fertilizer provides uniform and consistent lawn food distribution.
2. High Concentration
You will also benefit from the high concentrations of liquid fertilizers that come in smaller packages. Subsequently, you can save on money compared to the granular amounts you might need for the same coverage in sq ft. Additionally, the high concentration enables you to dilute your solution-based fertilizer for your custom applications.
Further to adjusting the concentration, this type of fertilizer allows you to choose the best liquid lawn fertilizer concentrate suitable for your grass. In most cases, the best liquid lawn fertilizer should have a higher application initially, with gradual reductions after that during growth periods.
3. Fast Acting Nutrients
Liquid fertilizer also provides the benefit of quick absorption through the surface grass leaves and the roots. Considering that solution-based grass feed is delivered through water, you will be able to water your grass while providing lawn food. This fast absorption is unlike the granular lawn fertilizer that takes time to take effect and is not soaked up by leaves.
Liquid Fertilizer vs. Granular Fertilizer
1. Liquid Fertilizer
Pros
Easy to apply
Even application
Uniform blend of different fertilizers
Rapid nutrient release
Cons
Expensive products and application methods
Requires several applications
2. Granular Fertilizer
Pros
Long-lived effects
Efficient for pre-planting soil preparation
Higher retention with a slow nutrient release
Cheaper than liquid dressing
Cons
Lower absorption rates
Harder for uniform application
Can burn grass
How Do You Apply Liquid Lawn Fertilizer?
At this point, you already know that liquid fertilizer can easily be applied through a hose or an irrigation system. Moreover, it is important to follow the manufacturer's recommendation on how best to apply your select liquid fertilizer. Due to high concentrations of liquid fertilizer, always make sure you shake ready-to-spray products and alternatively properly dilute them to avoid burning your grass.
In cases where a product doesn't have a sprayer attachment for a hose, you can also apply a hose-end sprayer for easy spraying using a garden hose. As you fertilize your lawn, always start from the furthest end and finish at the spigot to turn the water off without stepping on the fertilized lawn sections. Overall, the irrigation method is best for fertilizing your lawn because it evenly applies liquid fertilizer and eliminates the possibility of stepping on covered areas.
What to Consider Before Purchasing the Best Liquid Lawn Fertilizer
1. Test your soil
Before buying a liquid fertilizer, it is always prudent to know what your soil has and doesn't have. The only way of knowing how much fertilizer to apply is through a soil test that you can easily do yourself, thanks to the self-use testing kits available at most garden centers. Additionally, nitrogen fertilizers mainly have nitrogen, phosphorus, and potassium, commonly known as N P K.
Subsequently, a soil test will adequately indicate the availability of the three nutrients in the soil and at what amounts. Depending on the percentage concentration of each of the three nutrients, you will, in turn, be able to choose the perfect solution-based dressing. Thus, even as you aim to make your soil rich for a green and healthy lawn, soil testing helps establish the right amount of fertilizer for your lawn care.
2. When Do you Apply Liquid Fertilizer?
Furthermore, you need to know when to apply lawn food depending on the seasonal variations. Usually, you will find directions on fertilizer packs on when to apply, depending on the manufacturer. In addition, below are some other useful tips on the consideration of when to apply.
If you choose a fertilizer for a single annual application, you should consider applying it before the late fall and winter for optimal nutrient absorption before the cold season. For a bi-annual fertilizer, you can consider two applications that will feed your grass through the winter and after. Across the different seasons, it is recommended that you apply a smaller amount of this fertilizer during spring.
You can start applying for spring and summer lawn food during spring as you progressively add smaller applications every few summer weeks. However, it would help if you were careful when doing peak summer applications when the conditions are very humid and hot. Instead of helping achieve green growth, fertilize liquid might harm your grass during peak summer.
Additionally, there are organic liquid fertilizers that are safe for application during summer. Alternatively, during peak summer, you can opt to make early morning applications for greater benefit to your lawn. It would help if you also considered fertilizing your grass when the soil is moist for faster nutrient absorption and lesser harm to your grass.
Preferably, you should fertilize your grass a maximum of four times annually but with an allowance of two times a year for most homeowners. Optimal and controlled fertilizer application ensures that you don't burn your grass. However, another adverse effect of excessive fertilizer is that it can pollute the groundwater and other water sources in sandy soils.
3. Weeds
Besides the nutritional proportions in liquid fertilizers, you can also choose fertilizers with feed and weed control formula. If the weeds are extensive, you can consider such a product for weed control to optimize your grass's growth eventually. However, if the weed menace is not large, you can choose to make your grass healthier to choke weeds eventually.
This liquid fertilizer might be expensive but will make your work easy by using the same formula to eliminate weeds. However, if your grass is already healthy and you need only to eliminate weeds, you can use an exclusive weed killer to avoid burning your crops with excess fertilizer.
Frequently Asked Questions on the Best Liquid Lawn Fertilizer
1. Is liquid fertilizer for lawn better than granular?
Liquid fertilizer is considered better than the granular alternative because of its fast and optimal absorption rate. When sprayed, it is taken up through the roots and leaves for maximum benefit to your lawn. It is also better because most liquid plant food is easy to use, and you will simultaneously feed and water your lawn.
2. When should I apply liquid fertilizer to my lawn?
Liquid nitrogen fertilizer should be applied around October to provide your lawn with adequate food to withstand the harsh winter conditions. On the other hand, you should apply this type of fertilizer early morning for maximum absorption during summer. Generally, it is recommended that you apply the liquid dressing at least twice a year with the goal of not overdoing it to avoid burning your lawn.