Best leaf vacuum mulcher: A leaf vacuum mulcher is one of the most crucial and essential lawn tools for a lawnmower or a gardener for sucking up and removing leaves and other debris from your lawn, driveway, decks and some other areas. It is designed to suck the leaves and debris and cut them down into small pieces by an impeller with a unique blade and piles them for disposing and transforming into a fine mulch. If you want to make compost from these leaves and debris, you have to use a bag and collect them quickly and gather them into the compost pile. You can also sprinkle them directly into your garden beds rather than bagging that will transfer into good fertilizer or mulch after a few days of decomposition. This fertilizer promotes the growth of your lawn plant and makes them very healthy. Also, it helps the lawn access to sunlight.
When it is Spring, you must give attention to your lawn or garden's health and growth. You have to invest a little bit by purchasing a leaf vacuum mulcher as we know, most of the plant leaves drop out or fall in winter when the plant remains in dormant conditions. So, it is necessary to buy a leaf vacuum mulcher to keep your lawn or garden clean.
In this article, I will help you find the world's best eight vacuum mulchers from the world's best and number one reliable sources. Also, I will give you some of the necessary information, specific features, pros and cons and the most common price convenient for you to purchase this machine with some discount if it is available.
The 8 best leaf vacuum mulcher reviews
Here is the Top 8 best leaf vacuum mulcher with their reviews so that you can pick up the best one suitable for you.
1. WORX WG509 TRIVAC leaf vacuum mulcher
This is a 3-in-1 type of machine, so you can be benefitted by performing 3 types of the job with a single machine. Blowing, Vacuuming and Mulching are the main 3 functions of this machine. It is available in corded electric power sources. So, if you are an environment loving man, you can buy it without any confusion. It has a lower amount of weight, only 11 pounds and the air that blows out from this machine is between 80 to 120 mph. So, you can handle and bear it very easily in different places where it is needed and you can operate it by one hand.
It has a specific mulch ratio, the ratio is 18:1 that means it takes 18 bags worth of leaves and cuts down or chops it into 1 bag with its powerful impeller and shredder blades. It cut down leaves into 1/18 portions of their original size. It has a high-pressure quality motor, the power is 12 Amp, from which you can get a gas type quality power without use and expenditure of gas. Switching between functions requires only turning nob. You don't need extra tools to switch this machine, just flick of a switch to turn it from a leaf vacuum to a leaf blower or mulcher. The vacuum collection bag works well.
Key features:
3-in-1 working system. So, you can get vacuuming, blowing and mulching at the same time from the same machine.
The motor quality is good and it has a power of 12 Amp.
Weight: 11 pounds, so it can easily be handled.
The mulching ratio is 18:1. 18 bag leaves or debris cut down into only 1 bag mulch.
Two different speeds for two type jobs, airflow 80-120 mph and air volume 350 cfm.
It has a 12″ electric cord.
PROS
Compact and lightweight, easy to operate.
More powerful to displace more leaves from the surface.
Easy switching turns it from one task to other tasks.
Reduces time, space and money and gives a good look yard.
Strong blower to push up a large pile of leaves.
Bag attachment is easy to install and empty.
CONS
Sometimes, for someone, the shoulder strap is pretty short.
If you want to save your time and your lawn space is small to gather all collecting leaves and debris and want to get the 3-in-1 machine, you must have to choose a WORX WG509 TRIVAC leaf vacuum mulcher. It can minimize your effort and cost.
2. Toro 51619 Ultra Electric Blower Vacuum
If you ask which is rated the number one brand for vacuuming or blowing, the answer is Toro. This is also a 3-in-1 machine, so you can use it as a versatile tool for your lawn and garden to clean up chores. Its weight is about 8.5 pounds which can easily operate and move by one hand. It is designed with an impeller and an air controller which has a changeable speed. This is a powerful machine with its up to 260 mph speed of air that blows out and can easily displace leaves, sticks, debris and other heavy metals.
The most amusing thing is it can easily turn into an aggressive vacuum without using any kind of external tools. It can reduce up to 88% of total leaves or debris by cutting down with a rugged metal impeller. It makes the leaves or debris very small like ½ inch so that it can easily more fit into the bag. You can't find a more powerful vacuum mulcher or leaf blower than a Toro.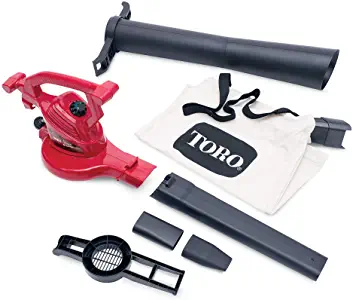 Key Features:
Weight: 8.5 pounds.
Powerful machine up to 260 mph airflow.
Can control better with its variable speed feature for both blower and vacuum mulcher.
Corded blower, 350 cfm blow mode and 410 cfm vacuum mode.
3-in-1 type machine, easy to turn from one task to another.
Extension cord not included.
PROS
Easy to deal with its less weight.
Variable speed control makes it more flexible to use.
Easier to empty with its zipper facility.
The powerful motor can easily clean stubborn debris.
Easy to convert from blower to vacuum mulcher.
Metal impeller turbines can easily cut down any powerful debris.
CONS
Very rare cases, sometimes its vacuum bag slips off.
If you want an excellent job for both vacuum and blower, Toro is the best tool in the world. So, you can buy it without any delay.
3. BLACK+DECKER BV6000 Electric Leaf Blower & Vacuum Mulcher
The performance of this machine is very outstanding with its 250 mph blower that blows leaves and debris very easily. This machine is well known for its fewer noise features. It has a special mulching ratio, the ratio is 16:1 that means it can cut down 16 bag mulch into small pieces with a high metal blade to fit for 1 bag. It has a high motor quality of 12 amp and it is also a 3-in-1 type machine. So, anyone can use it as a blower, vacuum and mulcher.
It has two special features, one is 8.1 pounds weight and two-speed selection system, one is for flower beds and another is for matted leaves. A tool-free changing system is fixed to turn from blower to vacuum mulcher. It saves time and effort by its reusable bagging system. To clear driveways, sideways, decks and garage it is an ideal blower and turn into an ideal vacuum by collecting heavy leaves, grass clippings, twigs and other debris.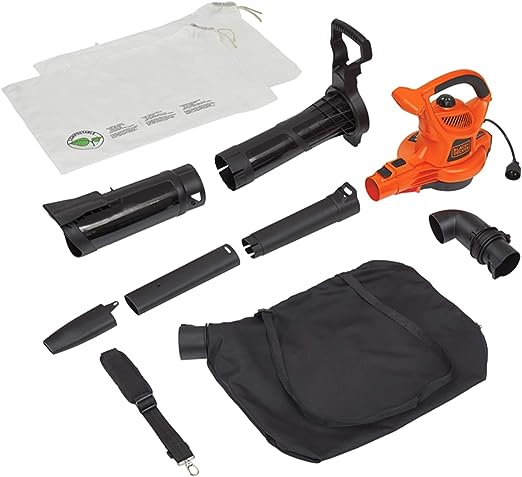 Key features:
Motor quality 12 amp and works as a 3-in-1 that means all in one.
Airflow 250 mph, two-speed selection.
Weight is 8.1 pounds, easy to handle and operate from one place to another.
The mulching ratio is 16:1, 2 disposable bag facilities.
Bags: 1.5 bushels; Included components: BV6000, Detachable shoulder strap; Power sources: Electric.
PROS
Powerful and easy to chop leaves with its metal mulching blades.
Ease of removing the leaves, fast cleaner.
It reduces bags for mulching.
Well balanced, simple and handy.
The empty process by zipper is pretty easy and quick.
Only you and your machine can perform any task.
CONS
Sometimes with a wrong attachment, it may shut off.
If you want all the facilities together, surely you can buy a BLACK+DECKER BV6000 Electric Leaf Blower & Vacuum Mulcher with its quick and clean features.
4. Greenworks Cordless Leaf Blower/Vacuum
If anyone wants an alternative to gas-powered and brushless series Greenworks DigiPro must be his best option to purchase. It is very easy to use which provides low operating cost with its powerful brushless motor. It has a zero-emission solution and offers a versatile use for cleaning and clearing debris. Its life becomes longer up to 80% because of brushless motors, lower noise and vibration features. Lightweight about 11 pounds, airflow up to 185 mph and air volume 340 cfm, so it can be easily handled and comfortable.
Using a G-Max 40V battery (Model 29462, 29472 and charger model 29482) gives up to 60 minutes extra working time. It has 6 variable speed triggers which can ease its job. Don't forget to assure the gate that protects you from spinning impeller is securely latched.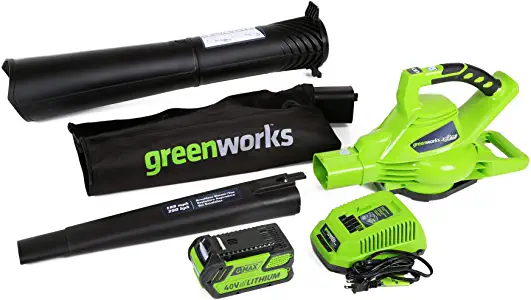 Key features:
3-in-1 type machine, airflow speed 185 mph and air volume 340 cfm.
Weight: a total of 11 pounds (Blower/Vacuum 5.6 pounds).
6 variable speed fixed in Turbo button.
Battery: includes 40V 4Ah lithium-ion (up to 120 minutes charge time).
Brushless motors offer long life, high performance, less noise, and vibration.
Warranty: 4-year tool/2 year battery.
PROS
Blower to vacuum conversion is tool-less.
Easy and comfortable to use, mulching effectiveness.
A strong blower and rechargeable battery save energy for the next day.
Easy to set the speed at a point.
The warranty protects your investment.
Push-button start is great compared to a pull start.
CONS
Sometimes in the case of big size leaves, it might grab one.
If you have an electric supply problem in some area you can purchase a Greenworks model without any doubt.
5. BLACK+DECKER LSWV36 Lithium Blower/Vacuum
It is ideal for light and heavy jobs like removal of leaves, grass clippings, and other debris from walkways, driveways, decks, and garage with its cordless functions and rechargeable 40-Volt 1.5Ah battery which gives extra power, longer life cycle, and longer charge facilities year after year. It has a lightweight of about 5.4 pounds, so it extends working periods with its large soft-grip handle added comfort during use.
A 120 mph airflow makes the work very quickly and can control power by its power command. Less noise design allows reducing the roar to protect hearing and reduce noise pollution as it works at 65 dBA.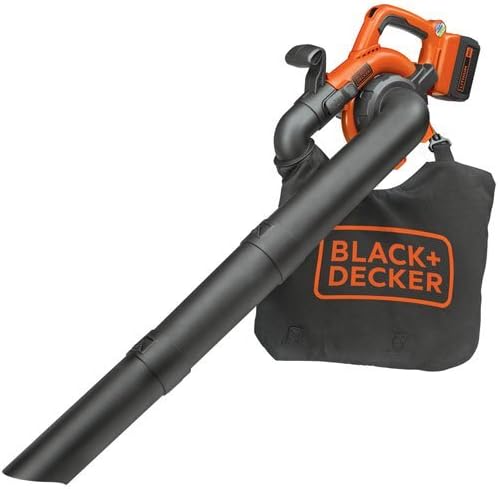 Key features:
Weight: 5.4 pounds (6.9 pounds in vacuum mode), easy to handle and operate with soft-grip handle.
Battery: 40V Max Lithium-Ion battery with a fast charger, longer runtime, and battery life.
Airflow up to 120 mph, Sound: <65 dBA.
Mulching ratio 6:1 with collecting bag; 0.5 bushels bag.
Zero-emission solution.
PROS
Ease to clear large and extra-large accumulated leaves.
Cordless, extra lithium battery with long life and working time.
Fast charger facilitates the battery to charge within a half hour.
Lightweight, easy to carry, strong suction.
Nice workout for arms and easy to rinse the bag off.
Noise is less so not annoying for your neighbor.
CONS
In rare cases, small pieces of material drop back out onto the ground.
If you want to do your job very fast, you must have to choose and buy a B&D lithium blower or vacuum. Its fast charger facilitates you to do your job very fast.
6. Sun Joe Electric Blower/Vacuum/Mulcher/Gutter Cleaner
Sun Joe SBJ606E-GA-SJG Electric Blower/Vacuum/Mulcher/Gutter Cleaner is one of the high speed, powerful 4-in-1 type machines Sun Joe blower must be in user top choice. It can perform 4 types of jobs like Blower, Vacuum, Mulcher, and Gutter cleaner that make your yard work fun, quick and easy. It has a superior 16:1 mulching ratio to reduce your mulch by cut down into small pieces.
The most important thing is it has a 14-amp instant-start electric motor and a 250 mph airflow. It has a 6 adjustable wind speed, also it offers an interchangeable tube design. A 12-gallon bag and an 18-gallon spare replacement bag provide a quick cleaner that will surprise your neighbor. It is designed with two-speed settings that provide the best selling gutter cleaning kit. The Gutter should clear regularly to ensure clear and clog-free performance.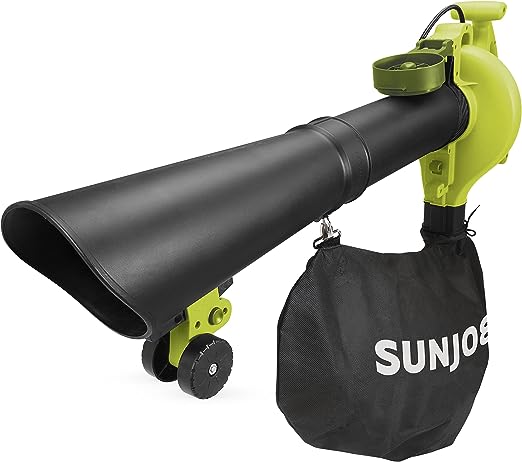 Key features:
Weight: 15.6 pounds.
Design: 4-in-1 that offers Blower, Vacuum, Mulching and Gutter cleaner.
Power: 14-amp motor, airflow up to 250 mph.
Impeller: Aluminium, durable.
6 adjustable wind speed.
Mulching ratio 16:1, superior.
PROS
Easy to remove leaves or other debris with its high 250 mph airflow.
All parts fit together nicely and lock in place securely.
Excellent customer service.
Wheels and aluminum steel impeller, perfect and effective for work.
Wheels make it easy to use rather than carrying on the shoulder.
Super easy to change the configuration.
CONS
A little bit weighty.
Blower-tube is shorter for someone.
If you are interested to purchase a 4-in-1, a high speedy powerful machine, no doubt you have to select the Sun Joe blower as the best machine.
7. CRAFTSMAN BV245 Gas Powered Leaf Blower/Vacuum mulcher
It is one of the best gas leaf blowers and vacuum mulchers that offers desirable power and it is convenient to use. It consists of 22cc, 2-cycle lightweight, and a powerful gas engine that offers high-performance airflow 205 mph, air volume 450 cfm.
A 1.5-bushels vacuum kit is enough to meet up needs for collecting leaves and debris. It offers you an easy 3-step start technology; prime, choke, and pull. It's lightweight and variable speed control is comfortable and user-friendly. Craftsman offers handheld, cordless and powerful blowers to ease your task, back by a 2-year limited warranty.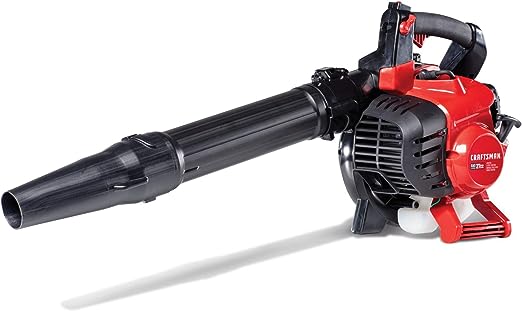 Key features:
Weight: 10.2 pounds, handy, cordless.
22cc, 2-cycle gas engine, airflow 205 mph, air volume 450 cfm for effective and quick blowing.
Mulching ratio 16:1 reduces mulch from collecting leaves and debris with 1.5 bushels capacity vacuum kit.
Faster easy 3-step start technology; prime, choke, and pull.
Warranty: Back by 2 years.
PROS
User-friendly with a lightweight design and variable speed control.
Handheld, cordless, and powerful that ease your work.
Airflow is sufficient to move stacks of leaves or debris.
No worry about losing your balance.
Balance and start on the first pull.
Ethanol-free fuel makes a big difference.
CONS
It is pretty heavy for someone.
If you search for a fast and easy start with an ethanol-free fuel machine and variable speed control, you must have to choose Craftsman.
8. Husqvarna 125BVx Handheld Leaf Blower/Vacuum mulcher
This is perfect for professional lawn owners as well as a beginner with its lightweight, gas-powered, and handheld features. It has a highly powerful cleaning performance with high airflow and air volume. The machine starts quickly with minimum effort.
Mulching is very effective and the reduction of mulch is very high. This is ideal for light-duty as well as heavy-duty tasks like blowing and removing leaves, grass clippings from sidewalks, driveways, garage, and some other places. Gas blower exhaust emission up to 75% but battery-powered models produce no emission.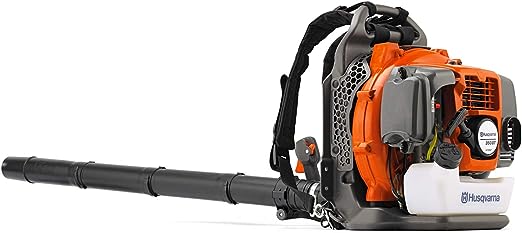 Key features:
Weight: 9.4 pounds, cylinder 28cc, Power output 1.1 hp.
Airflow 170 mph, Air volume 425 cfm.
Mulching ratio 16:1 increases vacuum bag capacity.
Variable speed control.
Fan speed can be set for easier handling.
PROS
Increase fuel efficiency by up to 20%.
Cordless, use the same rechargeable battery.
Not to carry, a slice to put over shoulders.
It starts on not more than 2nd pull even below zero weather.
Effective to blow the excess particles away.
Disposing of leaves mulch easier.
CONS
A handheld leaf blower is typically higher in weight.
No doubt, Husqvarna is one of the best seller tools in the world for its quick start features and zero-emission. So, purchase it as far as possible.
Things to consider before buying the best leaf vacuum mulcher
Here are a few points you have to consider for selecting and buying one of the best leaf vacuum mulcher.
Budget:
Firstly, you have to consider the budget in which you wanted to buy a machine. Budget is the most important thing to choose a definite machine for you. You can choose a proper machine from your limited budget.
Power sources:
Two types of leaf vacuum mulcher are available in the local market based on power sources. The electric-powered Model is corded and the gas-powered model is cordless. Gas-powered has high power but it has a high sound that makes a noisy environment, it is hard to start and the most difficult part of this is the mixture of fuel and oil. So, you are suggested to choose an electric-powered machine which has an environment-friendly character.
Features:
Before buying a leaf vacuum mulcher at first you have to consider and notice the features of it. Features will give you an overall idea about the tools or machine.
Design:
Design is also one of the important things to choose a machine. Which design you prefer to perform your task is crucial. Many companies offer a versatile working machine and fixed them into one. You can find 3-in-1 type machines, 4-in-1 type machines, single type machines, and so others. From this different type of machine, you can perform blowing, vacuuming, mulching, gutter cleaning, and some other tasks by a single type or combined.
Weight:
The most essential feature to consider for a leaf vacuum mulcher is its weight. If it becomes heavier, someone can't operate and handle it for a long time. Also, it is difficult to move when you move it from one place to another and it is difficult to do your job if you have a large area.
Some vacuum offers to comfort your work with some special features like shoulder straps and wheels to avoid this barrier.
Durability:
The durability of machines is an important thing for you before buying. For this, you have to know a clear idea about the quality of engine components. If they are well it gives you a long-lasting service.
Changing modes:
It is also important for you and your machine how easily it converts from vacuum mode to blower or mulcher. Many machines need a flip of a switch to change where some other needs a special attachment to convert. So, it largely depends on which modes you prefer for your job.
Variable speed control:
Another important feature you have to consider is variable speed control. It means how easily you can control your motor speed without damaging your garden. Lower speed saves your battery and extends your machine lifetime where high speed can damage your battery and you need more fuel.
Impeller strength:
Impeller strength is also an essential feature to be considered. Many machines offer plastic impellers that can easily damage or break by hard leaves or debris or stables. On the other hand, many offer you steel or aluminum impeller, it is hard enough to cut down any leaves or debris.
Mulching ratio:
If you have a space problem in your lawn or garden you must consider the mulching ratio features. A high mulch ratio helps you to reduce the space very much from a worth amount of leaves or debris that are collected for mulch. You can find 16:1,12:1,10:1,6:1 type ratio.
Noise:
If you are an environment loving person and you don't survive the noise anymore, you have to consider it before buying. You can buy cordless, brushless, and battery-powered type machines that have less noise and vibration.
Vacuum and blower speed:
You have to consider vacuum speed and blower speed before buying a machine. If vacuum speed is more it can take in a large number of leaves or debris from the surface and if the blower speed is high it can push out a large number of leaves or debris. Overall high vacuum and blower speed can complete your job very fast.
Collecting bag:
Collecting bags of different sizes and facilities are also considered before buying a machine. It can facilitate you to save time and space as well. Also, it can collect your mulch very quickly. So you have to choose a good quality bag with its zipper facility that can easily empty your bag.
Nozzle design:
It is also a very important feature for you to choose a different type of nozzle design according to your working place and the type of work that you perform. If you work under furniture or top of the floor you have to choose a curved type nozzle. The proper nozzle gives you a perfect working facility.
Advantages of using a leaf vacuum mulcher:
It gives a clean environment for you, your family, and your lawn or garden.
It keeps your lawn or gardens neat and clean.
It is very easy to use and anyone can handle and operate it with one hand.
It gives a quick and clean result.
Superior mulching facilities give a good quality mulch and a high mulching ratio can reduce your mulch to a large extent.
It reduces your working time and saves your money as well as your energy.
After decomposition mulches turn into a good quality fertilizer that makes your lawn healthy and green.
It is a very easy and affordable method for anyone.
It removes leaves, grass clippings, or other debris very fast.
It is user-friendly.
It is eco-friendly.
No worry about losing your balance or falling.
It increases fuel efficiency.
It has a quick start technology.
Disadvantages:
Sometimes with the wrong operation, it can damage your lawn or garden.
It is heavier for someone.
It may cause shoulder pain for someone.
With the wrong attachment, sometimes it may shut off.
It is difficult to operate in a place where there is no access to electricity if you don't purchase an adjustable battery-powered machine.
Final Verdict:
It is one of the most important gardening tools that give you a clean environment. Though it is easy to operate, it may seem a difficult task for someone who doesn't maintain it before. It would become easier for you if you purchase the right tool according to your working place and working types. Also, it would become difficult for you if you choose and purchase the wrong tool for your lawn. You must be more careful about the selection of this tool.
Hopefully, this article will help you to choose the right tools for your lawn. You are also benefited by knowing the importance of different tools. I hope this article gives you a clear idea about the world's best 8 leaf vacuum mulcher from the world's number one reliable sources. You are suggested to purchase any one of them which is convenient for you that makes you happy and gives you a quick result without any hesitation.