Airless spray is the icing on the cake for DIYers and professionals who want to put that final touch on their projects. Your home projects can now look presentable, neat, and stylish because you can paint them fast and efficiently without getting your elbows tired. All you need to do is get your hands on the best airless paint sprayer, and you are set to take your paint job to the next level professionally or as a hobby.
What Is The Best Airless Sprayer To Buy?
What is an Airless Paint Sprayer
An airless paint sprayer is a paint machine that forces out paint through a sprayer tip at high pressure. A sprayer makes paint jobs faster and more efficient, especially if you are working with a lot of paint and have a large surface to paint. An airless sprayer can be powered by electricity or a battery to get the paint out of the container and onto the surface. Now that we know how an airless paint sprayer works, let us explore the best options for your painting projects. You can also check out the benefits of using lime paint.
Best Airless Paint Sprayers
1) Graco Magnum x5 Stand Airless Paint Sprayer
Graco is the best paint sprayer that gives you the ultimate control over the paint and the spray pattern. The sprayer has fully adjustable pressure to control the paint coverage. Unlike most airless sprayers, Graco lets you spray unthinned spray at high pressure to let you achieve the consistency you need. You do not have to mess up quality paint by thinning it down because a sprayer will not work.
Transferring paint all the time reduces the amount and quality of the paint. With Graco x5 airless paint sprayer, you can spray paint directly from a spray bucket. When undertaking large or small projects, the flexible suction tube works with a one or 5-gallon bucket of paint. With Graco, you can use up to 125 gallons of paint in a year, which is more than enough for your DIY projects and professional paint jobs.
The sprayer can support up to 75 feet of paint hose length, allowing you to reach the remotest of parts in your project. In addition, the Graco magnum has a RAC IV switch that allows for tip reversal if one tip is clogged up. The hardest part about painting is the clean-p that needs to happen after a project. The sprayer has a power-flush adapter that connects to a garden hose for easy and quick cleaning. All you need is a 110-volt power supply to get on with your project.
PROS
Fast and reliable start-up
Reversible spray tip
75-foot paint hose support
Garden hose power-flush adapter for cleaning
High-efficiency airless sprayer
Use all types of paint
No paint thinner required
Most reviewed sprayers on the market
For a DIYer and a professional painter
125 gallons per year
Pressure control
You can use paint straight from the paint bucket
CONS
You need a power source close to you.
2) Graco Magnum x7 Airless Paint Sprayer
Graco continues to dominate the airless spray market with its incredible products. The thing that places the sprayer above the rest is that it can support a 100 feet hose and still deliver paint with enough pressure to work on a wide surface area. Furthermore, the paint sprayer can do all this while working with paint that is not thinned.
Graco has a 0.31 GPM maximum flow rate that is enough to reduce the amount of time you use to do your projects. This flow rate makes your professional life easier, earning you more money. In addition, you can achieve softer finishes with the true Airless Spray-tip that offers you greater control and less overspray.
Whenever you use an airless paint sprayer, your worry is how you will contain the paint. With Graco, you can spray directly from a one or 5-gallon paint container without worrying about the paint. This feature makes your workstation neat and reduces the amount of time you take on any particular project.
Graco connects to a garden hose for easy cleanup after use. As a result, you can do your projects fast and efficiently, knowing that you will not take forever cleaning the paint sprayer.
PROS
Easy to clean
Powerful airless paint sprayers
up to 125 gallons of paint per year
Quality paint sprayer
0.017-inch maximum tip size supported
A high volume of paint over a short period
Supports a 100-foot hose
For professional and DIY projects
CONS
Comes with a 25-foot hose and not a 100-foot hose
3) Titan High-Efficiency Airless Paint Sprayer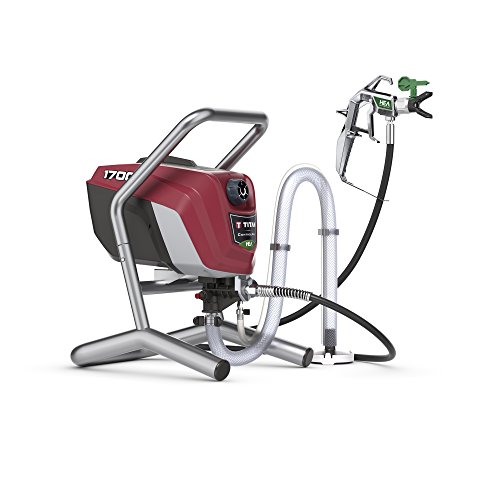 Three times faster sounds like a good way to do your projects. Titan has a powerful engine that speeds up your projects thrice. The faster you can do your projects as a professional, the more you can earn from them. Painting no longer has to take you unnecessarily long hours as it used to in the past.
Titan lives up to its name by giving you the chance to use up to 300 gallons of paint in a year, more than twice the amount that most sprayers allow. The airless sprayer uses an o.60 horsepower motor to run the sprayer and deliver a high pressure that makes your work easy and efficient. As a result, you can spray o.33 gallons of paint per minute, covering larger areas that would normally take a long to cover.
The sprayer lasts up to three times longer than the normal airless sprayer. In addition, the fluid section of the sprayer is rebuildable to increase the lifespan of the sprayer. When coupled with a two-year warranty, no other sprayer comes close to the efficiency and durability sprayer. You can be sure that trhe painting project will not stall when you use Titan airless spray.
PROS
0.33 gallons per minute
Up to 300 gallons of paint every year
The sprayer lasts three times longer than other sprayers
2-year warranty
Three times faster
You do not have to thin paint to use the sprayer
Replaceable fluid section
55% less overspray
CONS
The use of transformers is not recommended.
4) HomeRight Power Flo Pro Airless Paint Sprayer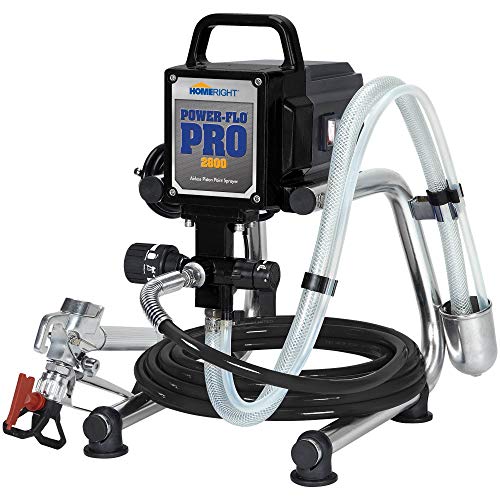 HomeRight is the perfect tool for a DIYer. The sprayer helps you take on large home projects with ease and efficiency like no other sprayer will. HomeRight has a sprayer that applies even coating on uneven surfaces, making it perfect for outdoor use. For example, you can use the sprayer to spray your garage, outer wall, fence, or shed. The airless paint sprayer features a 25-foot hose that makes the outdoor projects easy to handle and undertake.
HomeRight has a chrome-plated air gun with a 100-mesh air-gun filter installed. The sprayer further has a 515 reversible spray tip for a continuous, uninterrupted paint flow whenever you work on a project.
Once you buy the sprayer, you do not have to worry about discarding it once some parts wear out, as you can find replaceable parts in the stores. Your painting projects will no longer stall because of a spoilt sprayer. The sprayer is further backed by a 2-year warranty that adds to the confidence in the product before you purchase.
PROS
Replaceable parts
Reversible spray tips
Even coating application
Chrome-plated air gun
Durable
2-year warranty
Spray pattern control
CONS
Recommended for household use only.
5) Valu-Air Airless Paint Sprayer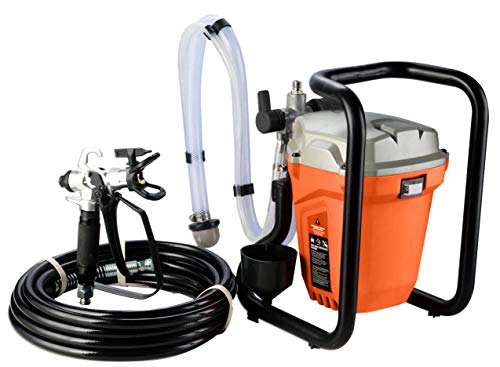 As the name suggests, Valu-Air gives you value for your money by offering outstanding service and efficient functionality. The sprayer can use different types of paint without any biases and equal pressure release. In addition, the airless spray has less overspray and takes a short time to use, making your projects faster and more enjoyable.
Valu-Air will make low pressure a thing of the past with its 3000 psi pressure output. The pressure on the sprayer is adjustable to give you the flexibility to achieve whatever you want. The sprayer ensures a continuous stream with its meta inlet strainer and returns tube that ensures a flexible siphon. The sprayer further incorporates a metal airless spray gun with a guard and a 517 tip.
Valu-Air offers a hose that will not kink under high pressure. The hose can work under any weather and temperature and with any paint that you may want to use.
PROS
High pressure
Use under any weather condition
No kink when under pressure
All metal spray guns
Powerful motor
Durable
Flexible pressure adjustment
CONS
Does not work with 220 volts
Factors to Consider Before Buying an Airless Paint Sprayer
a) Annual Gallon Usage
Different paint jobs require different amounts of paint when undertaking the project. A professional painter will not use the same paint as a DIYer. A professional painter will cover more surface area than a DIYer ever will. Most paint sprayers will use up to 300 gallons of paint every year. If you are a DIYer, you will use way less than the capacity on your projects.
A professional painter should look for a sprayer with a range of close to 500 gallons per year or more. Before buying a sprayer, establish the purpose and estimate the amount of paint that will pass through the sprayer.
b) Power (Horse Power)
A good paint sprayer will use a motor of around 0.6 horsepower. A more powerful sprayer will make your work easier, faster, and more efficient. Airless paint sprayers use paint that is either thinned or not thinned. Powerful paint sprayers can use thick paint and still get the job done without any breakdowns or hiccups whatsoever. However, the more powerful the motor, the more electricity it will consume.
Powerful airless paint sprayers can use longer hoses to push the paint out of the paint gun with consistent pressure regardless of the distance covered. However, if you will be spraying a large surface, it might be inconvenient to keep moving the sprayer with you when all you can bring is the hose.
c) Voltage
Different countries use different power output capacities. In the United States, the standard output is 110 volts, while in other countries, the output is 220. When buying airless paint sprayers, consider the power connection you have at home or on the project site.
A question often asked is whether you can use transformers to step down power for paint sprayers. Well, it is possible because that is just how physics works. However, it is not advisable to use a transformer when using an airless sprayer.
d) Hose Length
Handheld paint sprayers do not require any hose to get the job done. However, a larger sprayer needs a hose. The standard hose length for most sprayers is 25 feet. The sprayer will need to use more power to push the paint through the hose for longer hoses. Consider that most paints do not have the same consistency, depending on the type of paint used. For example, latex paint does not have the same consistency as thinned-out oil paint.
It will take more power to drive paint through a 100-foot hose than through a 25-foot hose. The longer the hose, the more freedom you have to work around your project faster and more consistently.
Our Take
Paint is what makes a project stand out. A building gets its character from the paint that is on it. A painted house can evoke different emotions. Santorini is characterized by the white and blue paint used on it. Elsewhere, a Londoner was sued for painting her townhouse property with white and red stripes.
The bottom line is if you are going to do a paint job, do it right. For you to do it right, you need the right tools, including a sprayer. Ensure you get the right pack, with adjustable pressure to get the layers right and give your project that final touch that sets it apart. When you do it well right from the start, you will avoid additional costs that come up in the future due to a flawed process.