While clean-cut hedges can make your yard and home appealing, the disheveled hedges can look untidy to you, your guests, and everyone else in the neighborhood. Fortunately, you can easily get the overgrowth in control using a power hedge trimmer, for example, a battery-powered hedge trimmer, if you're looking to get unrestricted mobility.
In comparison to electric hedge trimmers, battery-powered hedge trimmers are easy to operate, lightweight, require little maintenance, and are a bit quiet. There are a lot of battery-powered hedge trimmers in the market today, which makes it challenging to pick one.
Luckily, we have done all the research for you and provided you with a review of the five best battery-powered hedge trimmers available in the market today, together with their pros and cons. Furthermore, you will find a buyer's guide where we've listed some of the factors you should consider when choosing a battery-powered trimmer.
5 Best Battery Powered Hedge Trimmers
1. Worx WG931 20V Power Share Cordless Combo Kit
SALE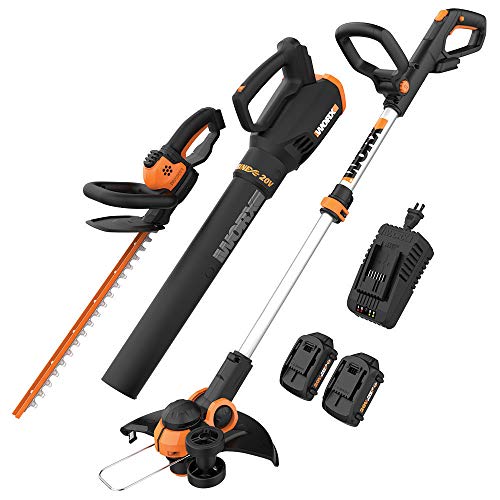 The Worx WG931 20V Power Share Cordless Combo Kit comes with three powerful tools that include a powerful turbine blower, a 2-in-1 grass trimmer/edger, and a long trimmer for flat tops. The trimmer has a range of 22 inches or 55 cm, which is enough to cut long, even sides and flat tops.
It features two sets of wheels that help reduce the pressure you need to exert. It also comes with a lower guard to help protect your flowers from being cut while cutting the hedges. The D-grip handle will allow you to hold it from different angles that you're comfortable with.
With the cordless feature, you're able to easily control lift and reach the hedges that are tall and far to achieve a finer cut. It uses two 20V Lithium-Ion batteries that give about 40 minutes of runtime. The dual-action blades also ensure a clean finish and fast cutting.
PROS
Dual-action blades
A D-grip handle for comfortability
Fast and powerful
Lightweight and easy to maneuver
It has less vibration
Can easily switch from trim to edge mode
CONS
Batteries need to be bought separately.
2. BLACK+DECKER 40V MAX Cordless Hedge Trimmer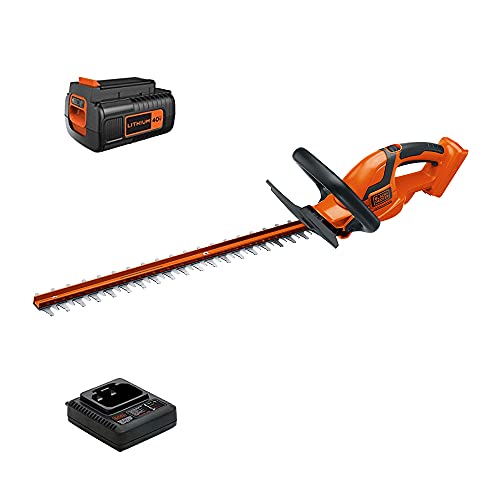 The BLACK+DECKER 40V MAX Cordless Hedge Trimmer boasts an efficient cutting mechanism where it trims the hedges twice as fast as you would with a single action blade. It features 24 inches or 60.96 cm rust-resistant steel blades that can cut through relatively thick and sharp edges.
The ¾ inch teeth on this trimmer can cut through all kinds of hedges, including overgrown branches. The 2400 SPM (strokes per minute) translates into even and powerful cuts. Its design produces fewer vibrations reducing the chances of hand fatigue.
It has a chainsaw full wrap-around handle that allows you to control better and protect your hands. This handle has a soft grip that ensures comfortability while cutting at any angle and gives a secure grip. It also includes a lock lock-off button that helps prevent injuries and accidents.
The BLACK+DECKER 40V MAX Cordless Trimmer also features a power drive transmission that aids in cutting double the branches. It comes with a 40-volt lithium-ion battery which runs up to 60 minutes and fully charges with an hour.
PROS
Compact design
Easy to use
Soft rubber grip
Rechargeable and Fast charging batteries
Strong and rust-resistant blades for powerful performance
Battery life indicator
CONS
The finishing and durability are not the best.
3. DEWALT DCHT820B Hedge Trimmer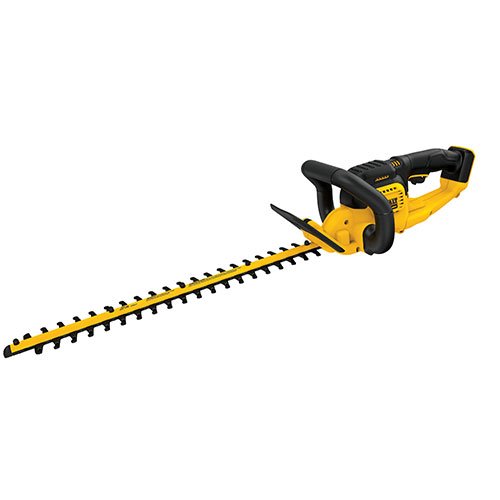 The Dewalt DCHT820B Hedge Trimmer is another battery-powered hedge trimmer that comfortably balances and is easy to use due to its lightweight design. It weighs only 7.5 pounds or 3.4 kg, making it easy to use and maneuver; however, you may need both hands to use it. One hand on the bail handle and the other one on the switch handle.
It features a great engine motor that is not only durable but also portable and gives high output. The system is also easy to start and stop. It also comes with hardened steel blades that give the required strength and rigidity. The blade is 22 inches or 55 cm in size, and it is designed with a hooked tooth blade that aids in clean results.
This lightweight hedge trimmer model uses 20 lithium-ion batteries that can work for about an hour with a full charge, which is ideal for bigger spaces. Moreover, it delivers 2800 strokes per minute, giving accurate cuts through ¾ inch branches using the reciprocating saw.
PROS
Lightweight
Easy to maintain and clean
Longer battery life
Portable and compact design
Powerful laser cut
Reduced vibrations
Extra sharp blades
CONS
The batteries are not included in the package
4. EGO Power+ HT2400 24-Inch 56-Volt Lithium-ion Cordless Hedge Trimmer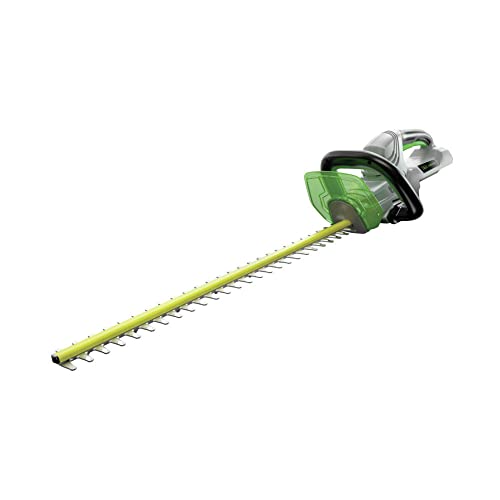 The EGO Power 56-Volt Lithium-ion Cordless Hedge Trimmer strives to deliver a quiet and less messy experience. As one of the best hedge trimmers, it is considered a perfect pick for large yards that need a lot of trimming to do. Weighing at only 6.2 pounds, the device is considered easy to maneuver.
The hardened steel blades that are dual-action and 24 inches in length help to deliver great results as well as a seamless operation. The cutting of this hedge trimmer is also quite at because of its speed of 3000 strokes per minute. It can cut the ¾ inch branches with ease.
This amazing tool features a weather-resistant construction. The batteries also provide a longer runtime when it fully charges. However, because of the blade construction of this hedge trimmer, it can be a bit heavy to control.
PROS
Long blades
Powerful lithium-ion battery
Great speed
Durable construction
An electronic brake that stops for improved control
Great cutting capacity
CONS
Heavy because of the blade construction
The batteries and chargers are not included
5. Makita 18V LXT Lithium-Ion Cordless 22″ Hedge Trimmer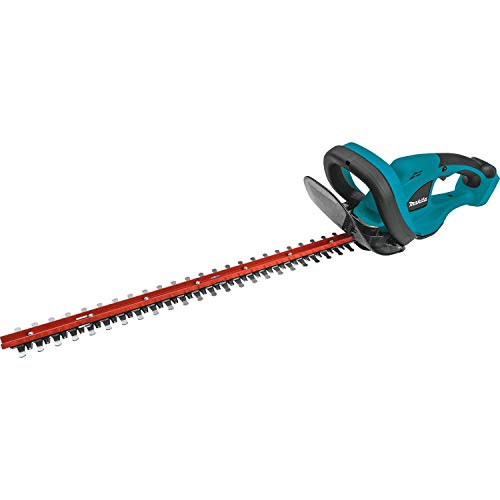 If you like a simple and uncomplicated tool, you love the Makita XHU02Z 18V LXT Lithium-Ion Cordless 22″ Hedge Trimmer. It is very easy to use, and when you need to replace the blade, you can do that without having to disassemble this hedge trimmer.
Weighing at slightly over seven pounds, this hedge trimmer is lightweight to carry during the trimming process. Unlike the electric hedge trimmers, this one is cordless, making it easier to lift it up to higher branches, and maneuvering is also easy. One full charge has a run time of 75 minutes which is great.
The 22 inches blade ensures that you can easily cut through larger hedges. The motor of this hedge trimmer will offer 1,350 strokes per minute, and it operates at a low noise level eliminating the need for ear protectors. The vibration is also quite less because of the dampening cushions that are within the motor housing.
PROS
Good speed
Reduced vibration
Soft grip handles
Great blade length
Safety cut off feature that comes in handy when a user loses grip
Easy to change the blade
CONS
May struggle to cut through thicker branches
It doesn't come with a charger and batteries
Factors to Consider When Choosing the Best Battery Powered Hedge Trimmer
1. Battery Life
Since different hedge trimmers have different battery life, the run time is an important factor to consider. If you're searching for a hedge trimmer with a powerful battery, then you should consider getting one with a powerful battery like lithium-ion batteries.
If you don't require a long runtime because you have a smaller hedge, you can consider picking small to medium-sized batteries. The longer the battery life, the more the runtime will be.
Also, you need to know that some hedge trimmers have a high load but won't last like the lower load. This is because of the design and motor operation where if the motor is poor quality, it may cause a higher energy consumption as well as overworking of other parts.
2. Blades
The nature of the blades will determine what can be cut or trimmed. Most battery-powered hedge trimmers are made of steel blades, which are superior compared to other materials when it comes to performance and reliability. The steel blades should also be rust-resistant.
To achieve the best trimming results, it is important to consider getting one with a dual-action blade. This is because it gives better performance when cutting large and tough branches.
Moreover, you need also to consider the cutting capacity and the blade length. Ideally, the longer the blade, the larger surface area it covers, and the higher the cutting capacity, the smoother trimming or cutting hedges will be.
3. Control and Performance
Although the battery-powered hedge trimmers are easy to control compared to electric hedge trimmers, the ability to control a battery-powered hedge trimmer varies depending on the brands, the handle, and as well as weight.
The D-grip handle is the most popular in a hedge trimmer tool; its delivery is great compared to other handles. Some brands also have soft grips for better control or hold.
In terms of the performance of the trimmer, you need to ensure that it has a powerful motor. The performance is measured in SPM (Strokes Per Minute), which indicates how fast the blades move. The higher the SPM, the faster the blades move, and the trimmer's more efficient and powerful the trimmer.
The SPM ranges from 1000 to some over 3000. The high SPM helps you get the trimming done with little effort. However, these higher SPM models are best for a customer with larger bushes, lawn, or yard.
4. Noise and Air Pollution
If you live in an area where nearby houses surround you, you may want to get a battery-powered hedge trimmer that emits lower noise. The two strokes engine can be a bit noisy, and you may need to wear ear protectors while using them.
It would be best if you got a power hedge trimmer that is environmentally friendly in such a way that it doesn't emit harmful fumes or noises to the environment.
5. Safety Features
One of the ways to ensure that your hedge trimmer is safe to use is by checking the teeth. The larger the teeth, the bigger the space between the blade and you, therefore, reducing the risk of a blade cut. Other features like the automatic brakes will help stop the blades when the switch is hit.
When you need to use both your hands to turn on the trimmer, the dual switches come in handy. This will help reduce the risk of accidentally powering on the hedge trimmer. Another safety feature is the handguards which shield your hands from the debris that is falling backward.
The amount of vibration should also be considered when it comes to the safety of the trimmer. Excess vibration by the motor and the blades may cause annoyance and also pain within the arm joints.
6. Weight
A heavy battery-powered hedge trimmer can be harder to use compared to a lighter hedge trimmer. This is because, with a lighter one, you will be able to carry it upwards when it comes to trimming the tall hedges. Depending on the shape of the lawn or bushes you want to trim, you should purchase a trimmer that has its weight low as possible. It is important to note that the battery of the trimmer may add weight to it.
7. Teeth Spacing
The wider the teeth spacing, the larger the object it can cut. For hard-to-cut or mature hedges, it is easier to use a wide-tooth gap of about 30 mm or even wider, depending on how big the hedge is. For smaller hedges, then a hedge trimmer model with a teeth gap of about 20mm will deliver great results.
8. Prices
The prices of different hedge trimmers vary depending on several factors, including the brands, quality, size, among many other variables. Luckily, you can always find hedge trimmers at a price that is within your budget.